Scheepjes CAL 2019: Rozeta Official Kit in Colour Crafter
Tatsiana from Lilla Bjorn Crochet along with Scheepjes introduces you to Scheepjes CAL 2019 - Rozeta in an array of colourways formed of two fantastic ranges; Scheepjes Colour Crafter and Scheepjes Our Tribe, forming thirteen possible kits in Scheepjes yarn. Inspired and designed with the idea of looking through stained glass Gothic windows and out to the colourful skies of the Aurora Borealis. The word 'Rozeta' is a Czech term in architecture describing large round stained glass windows usually placed around the entrance of the buildings.
Tatsiana's most complex design, this rectangular blanket uses two different techniques; tapestry and overlay crochet. Round "flower" mandala is first framed with textured border and then squared up with corners. A rectangular tapestry panel added at the bottom of the blanket. And finally, a stained glass border is crocheted around the entire piece. 
Scheepjes Rozeta official kit in Colour Crafter contains: 
15 balls of Dusk Colourway
15 balls of Dawn Colourway
15 balls of Winter Twilight Colourway
15 balls of High Noon Colourway
15 balls of Witching Hour Colourway
13 balls of Midnight Colourway
A Rozeta CAL Special Edition Label 
Wooden Decorative Ornament
A Skein of Embroidery Thread
Embroidery Needle
Letter from the designer
Size: 
Colour Crafter Blanket - 135 x 180 cm / 53 x 71 in
The pattern can be found in English (UK and US terms), Dutch and German.
Please Note - This is the Yarn Pack ONLY. The Crochet-Along is available in 11 parts, beginning on the 9th October, each downloadable as a PDF from the Scheepjes Website or the Official Scheepjes Facebook Groups. 
Yarn weight: DK


Length: 300m


Needle Size: 4mm Recommended


Ball weight: 100g


Tension: 20 stitches and 24 rows to 10cm


Fibre: 100% Acrylic


Care Instructions: 40 Gentle wash, Do not bleach, Iron Low Heat, Tumble Dry Low/60, PCE Dry Clean


Format: CAL


Customer Reviews
Write a Review
Ask a Question
Filter Reviews:
project
pattern
wool
colours
yarn
order
service
delivery
kits
time
09/09/2020
P'noni
United States
Love this design!
As a bold beginner, this is my second purchased, completed, successful, and enjoyable CAL kit through my association with Deramores. Crocheting in the round was new and great fun. The instructions and the designer's round-by-round tutorials were extremely well done and made the creative process go very smoothly. I learned so many new stitches - I loved it! In fact, I finished the whole project - ends woven in - within 4 weeks. A great way to wait out this pandemic and kick-off the gift making season for the holidays. My only complaint is that there was no photo of a completed Rozeta in The Witching Hour colors scheme. By the time I was able to purchase a kit, the kit that would've been perfect for my gifting person (Dawn) was sold out so I chose The Witching Hour (TWH - Colour Crafter version) by viewing the skein colors only - basically, buying 'blind.' Four out of the seven colors were 'her colors' so I took a chance. As I expressed before the design is gorgeous; however, I would not have chosen The Witching Hour kit for this person if I'd had known how the colors were distributed. Being a bold beginner, I don't have the confidence and experience to make major color changes in someone else's design; however, having said that I did make a color change in the bottom of the band because I know my person wouldn't like that bright orange/apricot repeated again. I used the fushia color until it ran out so I substituted a Deramores DK yarn from my scrap stash. I'm attaching a photo of my finished project so those in the crafting community can see how TWH colors are laid out. It's so soft and lofty! I honestly can't believe I could do this. Deramores/Scheepjes/Vendors, please, in the future, please post a photo of ALL the kits. This is quite an investment in time and money, and I always appreciate being able to make an informed decision for my yarn purchases which are usually made for other people. Now I really wanted to end on a positive note because, overall, this was a wonderful experience. In fact, I accessed the yarn list for the Rozeta Dawn kit on the Scheepjes website and recently purchased those Dawn yarns to make/enjoy this CAL AGAIN! (Guess I could've done that before buying the TWH kit - I'm a bit slow on the draw sometimes.) Unfortunately, with the number of gift projects I have going, I don't know if I'll be able to finish it by the holidays. At least I can offer the Witching Hour until Dawn is completed. Bottomline: I highly recommend this project and the yarn - great design, great designer/teacher, and great quality!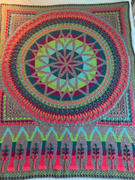 09/03/2020
SUzanne D.
United Kingdom
08/18/2020
Sophie T.
United Kingdom
Love this kit!
I bought the witching hour Rozeta CAL as I couldn't find a finished picture of it so making it is like a little mystery. All came in its own Rozeta box and was delivered very swiftly. Hopefully (if I ever finish this one), I'll buy another one!
07/23/2020
CAROL T.
United Kingdom
Rozeta kit
Well packed bought as a present so unable to review as a working item but receipent very pleased
07/09/2020
CAROL T.
United Kingdom
Rozeta kit
Kit nicely packed with speedy delivery. Excellent keep it up