---
Customer Reviews
Write a Review
Ask a Question
Packaging
The wool arrived in packaging that had rips and tears in it and one ball even had the band ripped and no longer attached to the wool. Some of the wool arrived in a separate bag but it seemed like the rest of the wool had just been "thrown in" with no care or attention.
Rise & Shine Cal
Have made the first two squares and enjoyed learning the jacquard technique. Great to work with this wool as its so soft and doesn't split. Love the style of this throw too - it's 3d effect is a very pretty touch. Highly recommended!
not happy with packaging
the communication re delivery was mixed up and the packaging was not good as the kit for the Rise and Shine project was loose and the packaging had got torn so someone had patched up. The balls of ball were loose in the outer packaging and most suppliers would have had the kit in its own packaging to keep safe and together within the outer packaging. Whereas this caused the wool balls to be exposed to the outer world and potentially get dirty. Fortunately all the happened with lables and thread was pulled on some balls. So not impressed. I have ignored the past emails to give a review but as I keep getting I have done.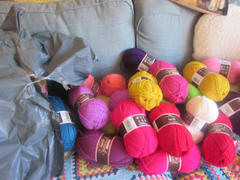 A great way to buy a block of wool and a good price.
I was pleased with the price and speed of delivery for the yarn. It waz useful to have it all together. I was a bit disappointed as the promised free pattern was not included.