Karbonz Single Pointed Needles (Carbon Fibre) - 25cm
Carbon Fibre: One of the most versatile material used in manufacture of the new generation of air crafts, space ships and automobiles. This wonder material now comes to the knitting needle!
In Knit Pro Karbonz, you will find:
High tensile strength
Low weight
Flexibility
A warm feel
A smooth surface that helps stitches glide along the needle
Image for illustration purposes only.
Length: 25cm


Needle Size: 2.00mm


Needle Type: Single Point


Customer Reviews
02/02/2017
Dawn E.
United Kingdom
Would recommended but....
I have given these needles 4 stars because I really like the weight and feel of them when I knit but...I bought two pairs of needles..the 4mm are great but the 3.25 catch very slightly when you start to use them where there is a different tip to the needle and the shaft. This is something you get used to quite quickly but I am not sure why that happens on one size of needle and not the other. They are quite expensive and the needle should feel entirely smooth to knit with and it doesn't. But that is only on the one size of needle and not the other. Apart from that slight catch I do like to use them and the catch doesn't affect the knitting, just the feel....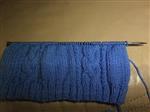 08/31/2019
carole o.
United Kingdom
Perfect present
Haven't used these yet but they feel light and smooth, and if they're like the other Knit Pro needles I have they will be perfect. Bought when on promotion, thank you Deramores
09/17/2017
Val N.
United Kingdom
Karbonz single pointed
Absolutely fabulous! I loved the symphony ones, but I think I might love carbon fibre better!
04/17/2017
Nataliya U.
Cyprus
Karbonz Single Pointed Needles (Carbon Fibre
Very good quality. I like it
03/03/2017
Sheila C.
United Kingdom
Karbonz single point needles
Excellent, would not use anything else.